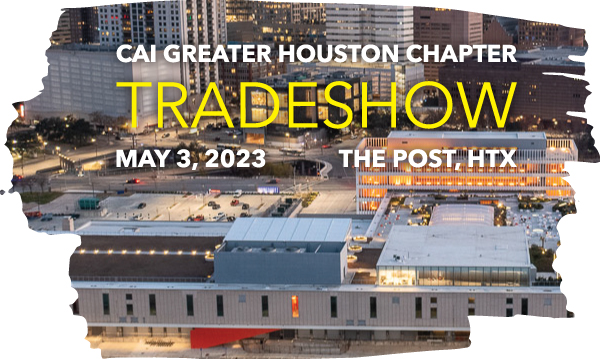 THE CAI GREATER HOUSTON CHAPTER TRADESHOW IS A ONE-DAY BUSINESS-FOCUSED EXPERIENCE FOR COMMUNITY ASSOCIATION PROFESSIONALS, VOLUNTEERS, AND THEIR KEY PARTNERS. THIS IS THE PLACE WHERE RELATIONSHIPS ARE CREATED AND IDEAS ARE BORN INTO ACTION!

WHY ATTEND
Because face-to-face interaction with product and service representatives is an invaluable aspect of attending the Tradeshow, conflict-free exhibit hours enable you to consult one-on-one with representatives of companies from across the country. Meet the leading vendors of the products and services you use every day and explore new offerings to meet specific needs within your communities.

WHO ATTENDS
The Tradeshow is open to all community association management professionals, homeowners living in community associations (condominium, homeowners association, housing cooperative), and business partners serving these communities (fees apply).
---
SCHEDULE (TENTATIVE)
May 2, 2023
1:00 pm - 5:00 pm - Exhibitor Setup
May 3, 2023
7:30 am - 11:30 am - Exhibitor Setup
10:00 am - 10:45 am - Education Session
10:45 am - 11:00 am - Break
11:00 am - 11:45 am - Weathering the Storm: Contingency Planning for Natural Disasters, Teddy Holtz, Winstead, PC
12:00 pm - 5:00 pm - EXHIBITS OPEN
12:00 pm - 1:00 pm - Lunch in the Exhibit Hall
2:00 pm - Raffle Item Announcements
4:30 pm - Raffle Item Announcements and Boost Your Booth Drawing
5:00 - 6:30 - After-Party
---
EXHIBITING INFORMATION



Exhibit Booth Pricing (UPDATE 3.7.2023: Exhibit floorplan is pending Fire Marshal approval. Exhibit sales will begin as soon as the layout has been cleared. Thank you for your patience!)
$1,050/standard booth member
$1,450/standard booth non-member
$1,250/premium booth member
$1,650/premium booth non-member
Exhibit Booth Guidelines
Exhibit booths include a 6' table and two chairs. Pipe and drapes will not be provided.
Tables must be covered.
All boxes, wires, storage materials, etc. must be kept out of sight. It is the responsibility of exhibitors to provide drapes if necessary to cover these items.
Any raffles, drawing, contests, promotional giveaways or similar activity at the table area of the exhibitor must be held in compliance with local and state governing laws. CAI GHC must be notified in advance of such giveaways. Any promotional prizes and giveaways must be drawn at the end of the show. The winner name's address, email, and phone number must be given to CAI GHC at the conclusion of the show.
Set Up and Take Down
Exhibitors can set up as early as 7:30 am the day of the Tradeshow. Exhibitors can park behind the building to unload/load when setting up.
Cleaning
Exhibitors will be responsible for keeping their table areas clean. They are responsible for removal of all materials and trash at the end of the Tradeshow.
Credentials
Please pick up Exhibitors badges from Exhibitor Registration table when you arrive to set-up.
Four (4) badges will be issued per Exhibit Booth registration.
Exhibitor badges are to be used/worn ONLY by Exhibitors working in the booth.
Fire and Building Regulations
Exhibits are not allowed to block or obstruct any firefighting equipment or emergency exits. No open flames or candles.
Damage to Facilities
Exhibitors will be charged for any and all building damage caused by Exhibitor, to include exhibit personnel.
Staffing of Exhibit
Every Exhibitor is responsible for having his/her display staffed at all times. We suggest a member of your staff be present at your display area during move-out.
Security
CAI GHC assumes no responsibility for Exhibitor's property before, during or after the Expo.
Signs
Exhibitor may not affix signs to any walls. No handwritten signs are allowed/used, only professional signs will be allowed for display.
---


CONTACTS
Jesus Azanza, Executive Director, jazanza@caihouston.org, 713.784,5462.
Amy Newsom, Events & Membership Coordinator, anewsom@caihouston.org, 713.784.5462
Christopher Sharp, Crest Management Company, Tradeshow Committee Chair, chris@crest-management.com